About Dr. Chloe Carmichael, Ph.D.
Graduated Summa Cum Laude, Phi Beta Kappa from Columbia University
Doctorate in Clinical Psychology from Long Island University
Dr. Chloe Carmichael holds a doctorate in Clinical Psychology from Long Island University. Her private practice focuses on stress management, relationship issues, self esteem, and coaching. Dr. Carmichael sees clients in her Manhattan office or via Skype.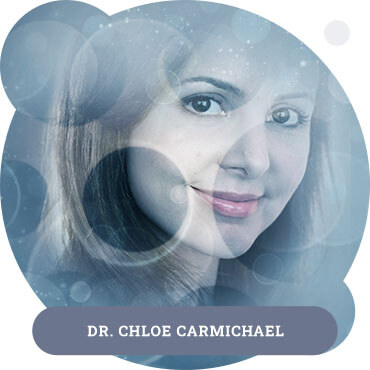 Dr. Carmichael attended Columbia University for a BA in Psychology, and graduated summa cum laude with Departmental Honors in Psychology. She completed her doctorate in Clinical Psychology at Long Island University in Brooklyn; the LIU Clinical Psychology Program admits fewer than 10% of applicants and is accredited by the American Psychological Association. Dr. Carmichael completed her clinical training at Lenox Hill Hospital and Kings County Hospital, as well as other settings such as community clinics and academic centers. Dr. Carmichael has published work on issues related to psychotherapy through academic sources such as Guilford, and presented at the Anxiety Disorders Association of America. Dr. Carmichael has instructed undergraduate courses at Long Island University and has served as adjunct faculty at the City University of New York. In addition, she has been a certified yoga instructor since 2001; she has also completed coursework in Buddhism and meditation with Robert Tenzen-Thurman (Dr. Thurman is an Oxford scholar and was the first American to be ordained a Tibetan monk by the Dalai Lama) and Mindfulness-Based Stress Reduction designed by the Jon Kabat-Zinn of the University of Massachusetts Medical School. In addition, Dr. Carmichael was recently named as the psychologist for the New York College of Podiatric Medicine. In her role at the NYCPM, Dr. Carmichael provides support to faculty and students in the form of individual counseling as well as the creation and delivery of stress-management and goal-attainment workshops. Previously, Dr. Carmichael worked at Corporate Counseling Associates in Manhattan. CCA contracts with financial institutions, law firms, cultural institutions, and other corporations. Dr. Carmichael has also been featured on VH1, Inside Edition, and other media.
Dr. Carmichael is also an active member and co-chair of a committee for the New York Junior League, which is a charitable organization devoted to promoting volunteerism and improving the lives of women and children in New York. In addition to her work with executives and very high-functioning clientele, Dr. Carmichael has provided clinical as well as personal volunteer services to under-served populations including the homeless, veterans with addictions, and poverty-level immigrants.
Publications
Carmichael, C., Castro-Blanco, D. (March, 2008). Regulatory focus and anxiety. Anxiety Disorders Association of America, Savannah, Georgia.
Carmichael, C., Castro-Blanco, D. (March, 2008). Regulatory focus and anxiety. Society for Personality Assessment, New Orleans, Louisiana.
Fraenkel, Peter, Carmichael, Chloe. 2007. Working with families that are homeless. In Monica McGoldrick (Editor), Revisioning Family Therapy. New York: Guilford.
Fraenkel, P., Rodriguez, E., Kruk, J., Oakes, M., Carmichael, C. (2005) Coping and challenges of homeless families with teens. American Family Therapy Academy Annual Meeting, Washington, D.C.
Articles